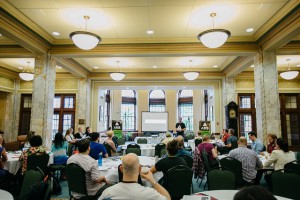 The ARIS team is excited to announce the International ARIS Summit will be held in Madison, Wisconsin on August 16, 2016, one day before GLS. ARIS is a user-friendly, open source platform for creating and playing mobile games, tours, and interactive stories where players experience a hybrid world of virtual interactive characters, items, and media placed in physical space.
This will be the fourth year of the ARIS Summit, an event that continues to offer an incredible time connecting and collaborating with other educators, researchers, and designers as well as the ARIS team. During the action-packed day you will hear stories from other ARIS educators, participate in live demos, and partake in workshops to either power up your current abilities or learn the basics through our ARIS 101 workshops.
We are excited to facilitate a few new session types this year:
"Make My Game!" –a group design session where members from the ARIS community will help plan, design or test your game idea.
"Grant Writing Speed Dating" —a session where participants will share and learn about upcoming funding opportunities and pitch their ideas to form collaborative teams.